1 Comment// Posted in e-classroom, english, IMMOOC, learning, MOOC, reflection, teaching, Uncategorized, writing by Nor Fadzleen Sa don on 09.30.17.
When I signed up for the Innovator's Mindset MOOC by George Couros, my main reason is to revive the important learning nuggets I've picked up from the book by discussing with others. For the first week of #IMMOOC , we are encouraged to blog on this:
 Why is innovation in education so crucial today? 
I've pondered upon the question, thinking where to begin and I feel the best way is to reflect on my personal journey as an educator, a learner and a researcher. I've been teaching for the past 16 years in a public secondary school in Malaysia and now pursuing my PhD in Management of Technology at the same time. Just like my students, I'm multi-tasking and that's one of the challenges faced by students and many adult learners out there. Hence, there is a need for paradigm shift in understanding why there is a need to innovate ways in providing effective learning. This could be seen in ways heutagogy is now taking centre-stage of global learning where self-driven learning requires educators, instructional learning designers, technologists as well as parents to find ways to sustain lifelong learning.
There has been a robust development of teaching and learning methods as years progress but the crux of teaching and learning remains: the students. Albeit myriad innovation in the form of tools, theories and approaches, the crucial part of learning gratification lies in providing an engaging and meaningful learning for both the educators and learners. George has highlighted 10 essential characteristics of a 21st century educator. You see, in Malaysia, 21st century learning is the current buzzword in Malaysia where everyone is jumping onto the bandwagon trying to envisage the classroom of the future education via classroom management, teaching methodologies as well as teaching tools that differ from merely chalk and talk or sage on the stage.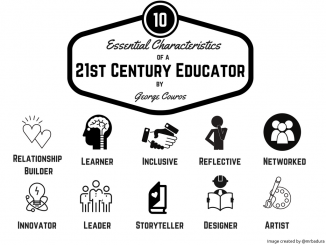 As a practising teacher and a MOOC researcher, I've discovered that there is a gap that needs to be addressed in how innovation and 21st century learning should be implemented in school and higher education. The preoccupation verging on the obsession of getting hi-tech gadgets and gizmos is tad worrying. Innovation is beyond technology and hi-tech gadgets (it helps to have 'em) but you still can rock the lessons by ulitizing and optimizing the resources that are available. This was pointed out by A.J. Juliani in his book, Empower where the focus is shifting from materials but more on innovating our mindsets where accessibility of learning is beyond classroom boundaries (MOOC, OER, NOOC etc.) and collaborative learning is as important as personalized learning (heutagogy & peeragogy) as interchangibility of learning approaches occur depending on the needs and learning ethos.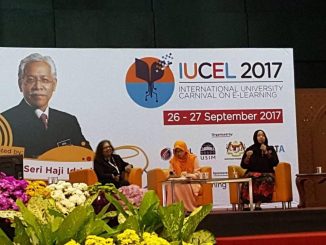 A few days ago, I was invited as a forum panellist at the International University Carnival on E-Learning (IUCEL2017) and the topic was on "Envisaging Beyond E-Learning." To understand the impact of innovation for future education, it is vital to know how innovation works and why the advancement of machine learning, AI or robotics can never replace the human touch. One of the points that I've highlighted during the discussion is the importance of fostering creativity and innovation in teaching and learning. As we are dealing with Gen Z (the digital natives and unfortunately, with shorter attention span), educators have to deal with ways to cater to the needs and wants of our learners. Rather than teach them to hog all the hi-tech gadgets and learn the way we do in the past, we need to facilitate them to find the potentials in creating (maker mindset, job creator) as well as improvising the existing system with the aid of multi-disciplinary knowledge & technology. (innovator's mindset, industrial revolution mindset).
I am looking forward to sharing my views on #IMMOOC as well as learning from others too!
---
You can leave a response, or trackback from your own site.
One Response to "Envisaging Beyond E-Learning: Innovator's Mindset #IMMOOC"
Leave a Reply