No Comments// Posted in e-classroom, ICT, learning, malaysia, reflection, workshop by Nor Fadzleen Sa don on 11.26.16.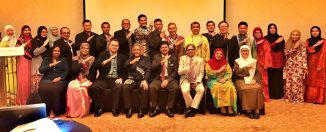 From 24-25 Nov 2016, I attended the National Consultative Workshop on Open Educational Resources (OER) Policy Development at Sama-sama Hotel, KLIA. I've been selected to represent the school's stakeholder in refining how OER is implemented and executed nationwide. It is a great opportunity to learn and share ideas on how OER can be fully optimize to promote knowledge sharing, content-empowerment as well as cost-effectiveness in the midst of digital era. I am thrilled to learn more about OER from Prof Sanjaya Mishra from Commonwealth of Learning. Hopefully, more schools and teachers will be aware of optimizing OER benefits and potentials as well as addressing challenges ahead.
---
You can leave a response, or trackback from your own site.
Leave a Reply