No Comments// Posted in conference, learning, MJIIT, reflection by Nor Fadzleen Sa don on 12.01.16.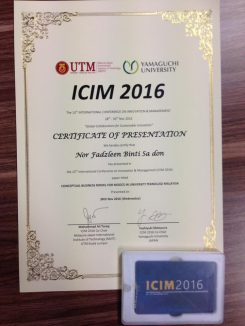 The department of Management of Technology (MoT), Malaysia-Japan International Institute of Technology, Universiti Teknologi Malaysia has successfully organised the International Conference on Innovation and Management from 28-30th November 2016. I've presented the research paper I've written with my supervisors, Prof. Dr. Rose Alinda Alias and Prof. Dr. Hiroshi Nakanishi at ICIM 2016. My research is entitled 'Conceptual Business Model for MOOC in University Teknologi Malaysia' was successfully presented and it was great to get questions as well as feedback from other professors and researchers. To me, conference is a great opportunity to network and learn new ideas as well as identifying ways you can rectify and refine your research.
---
You can leave a response, or trackback from your own site.
Leave a Reply