No Comments// Posted in malaysia, reflection, student, teaching by Nor Fadzleen Sa don on 04.21.15.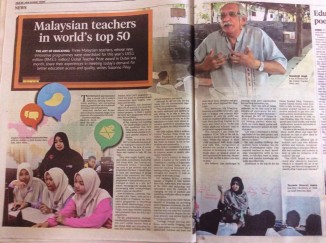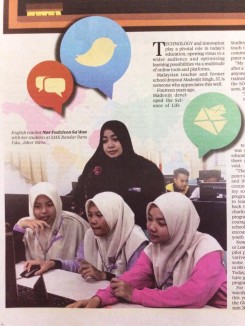 Alhamdulillah, I've been featured on New Sunday Times yesterday, alongside Top 50 Global Teacher Prize finalists, Dr Mandejit Singh & Yasmin Amin. I talked about the use of technology in teaching and learning in Malaysian schools. I believe that technology and innovation play pivotal role in education today. However, I believe it will never replace the role of a teacher but amplify their presence and optimize learning possibilities via multitude of online tools and platforms. Through virtual learning platforms, social media, blogging, MOOCs and flipped classroom, teachers could learn and share their ideas, thoughts and projects with others beyond the classroom boundaries. For instance, via blogging, tweeting and online community of practice, I am able to engage and network with educators all over the world and share my students' projects online. Technology is the catalyst in shifting the role of teachers in providing multiplier impacts of global education.
---
You can leave a response, or trackback from your own site.
Leave a Reply