No Comments// Posted in english, malaysia, social media, speaking, student, talk, teaching by Nor Fadzleen Sa don on 02.23.16.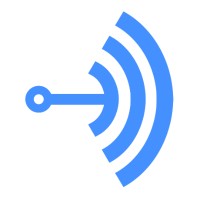 Have you heard about Anchor, the latest micro-podcasting app? I've heard about it four  days ago on Ben Leonard's Scope. Piqued with curiosity, I downloaded the app on iOS. What I've discovered that it's the world first public radio that optimize interactivity and global sharing with users worldwide. You can record your micro-podcast (referred to as 'wave'), use hashtags to categorize it and share with the masses. Anyone with Anchor account can respond to your wave by recording their replies to you.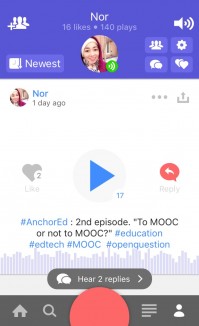 My Anchor's account, listing number of likes, plays and my shared waves and replies from other users.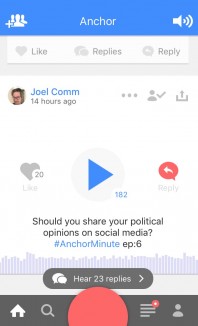 An example of wave of Joel Comm who I'm following on Wave. It can be a question, annotation, reflection, rant or anything under the sun.
While exploring Anchor, I thought the abundance of potentials of micro-podcasting in teaching and learning. As it's a 2-minutes wave recording, I reckon it would be a great social media tool for speaking skills, pronunciation, ennunciation, vocabulary and thinking skills. Since this app is relatively new, I twitted on Anchor recently and decided to kickstart  AnchorEd, a micro podcast show on education. Check out my waves below:
The 1st episode : How Anchor can support teaching & learning
The 2nd episode : To MOOC or not to MOOC?
---
You can leave a response, or trackback from your own site.
Leave a Reply