No Comments// Posted in MOOC, PhD by Nor Fadzleen Sa don on 03.01.16.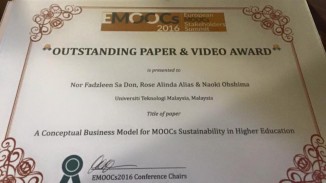 The paper I co-wrote with my supervisors entitled "A Conceptual Business Model for MOOCs Sustainability in Higher Education" just won the Outstanding Paper & Video award at the European MOOCs Stakeholders Summit 2016 at University of Graz, Austria. We were the only representative from Asian universities. I'm feeling on the top of the world! This motivates me to strive and produce better research for quality open education for all.
---
You can leave a response, or trackback from your own site.
Leave a Reply