No Comments// Posted in e-classroom, english, guru cemerlang, internationalisation programme, KSA, learning, malaysia, reflection, speaking, teaching, writing by Nor Fadzleen Sa don on 05.24.17.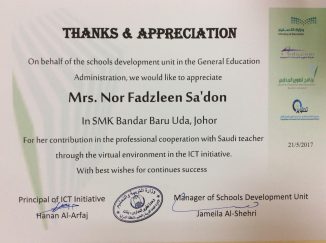 Exactly one year ago, I met Hanan Arfaj, the Technology Supervisor, General Education Administration, Kingdom of Saudi Arabia at LINC MIT 2016, a conference at MIT. We networked and discovered there are potential collaborations that could be initiated via online learning. Hence, we planned and came up with an online learning project between the English teachers in Malaysia and KSA. The focus of our project is coming up with resources for English language speaking & pronunciation, which is one of the main challenges for Second Language Learners. We chose Google Education platform and glad it turned out well. Thank you Ministry of Education KSA for supporting this initiative. Demographic and cultural barriers are no longer main challenges nowadays, thanks to technology. As teachers, we need to fully utilize online resources to collaborate with others teachers and students worldwide. The possibilities are endless.
---
You can leave a response, or trackback from your own site.
Leave a Reply