No Comments// Posted in AFS, learning, reflection by Nor Fadzleen Sa don on 08.21.18.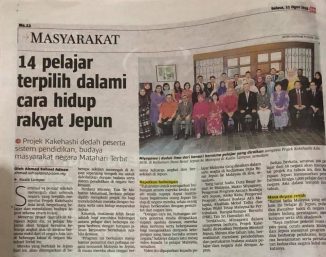 My student, Putri Mohamed Shain has been chosen to be the recipient of the prestigious Kakehashi Project Scholarship. This is a full scholarship awarded by the Government of Japan to excellent students to study at Japanese high school for 6 months. Only 20 students are selected nationwide via rigorous interview procedures. 頑張ってください
I am proud of her and all the long hour driving from JB to KL to send her for the interview at AFS HQ is worthwhile.
Some people asked me why did I trouble myself to do that as the rest of the candidates were sent by their parents. To me, since her parents couldn't send her off, it's my responsibility to ensure that she has the opportunity to showcase her abilities and leadership. Putri has been helping me out with English Language Society as well as the Student Leaders Board. Hence. I felt she has the leadership skills to perform and survive in another country.
Alhamdulillah, she succeeded and is flying to Japan tonight. She will be studying at Osaka Prefectural Yuhigaoka High School for 6 months.  All the best my dear! We thrive by nurturing others to be better.
---
You can leave a response, or trackback from your own site.
Leave a Reply