No Comments// Posted in award, english, learning, reflection, teaching, writing by Nor Fadzleen Sa don on 09.23.18.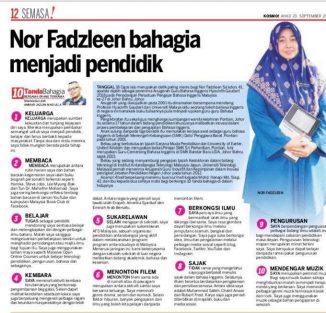 I'm grateful to be featured in Kosmo today on the Tanda Bahagia segment on things that make me happy. There are many ways teachers can be motivated and engaged professionally and on a personal level. To me, it is important to sustain your passion as a teacher by sharing and learning from one another. Being a constant learner is essential as with the robust changes happening in the education system, it is vital to be a lifelong learner.
Apart from that, I believe a teacher needs to find her vocation in life. To me, I would like to contribute to my nation by content development, organising projects with my students on leadership, intercultural and language awareness as well as be part of a thinktank on our education system. I feel that our education system has so many potentials but perhaps we need to improve its execution and monitoring process. I do not want to be a whiner but I would like to do something to rectify the situation. If you don't like it, you have to fix it. We do what we can within our means. Maybe we felt we are not good enough but believe me, each and every one of us is significant in making an impact. We can set ripples to the ocean of education system.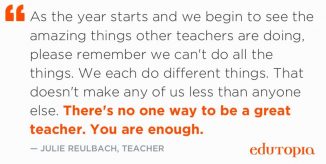 Together we can be better.
---
You can leave a response, or trackback from your own site.
Leave a Reply