No Comments// Posted in harvard, USA, utm by Nor Fadzleen Sa don on 11.30.13.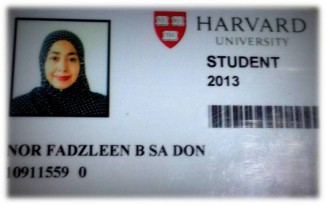 Harvard Global Outreach Programme is a part of Universiti Teknologi Malaysia's Global Outreach Programme (GOP) that was initiated in 2009. It aims to encourage the mobility of UTM students and to provide the opportunity for UTM students to experience the extraordinary ecosystem of Harvard academics,resources, and residential life. In the context of learning opportunities, UTM-Harvard Global Outreach Programme acts as a platform for UTM students to experience the extraordinary learning ecosystem of Harvard University as well as contributing to multifaceted immersion opportunities for Malaysian Higher Education. The inception of this programme in 2010 is a milestone for UTM where its top students are sent to this Ivy League university to immerse in thought-provoking interactions with world-class scholars and the brightest students from all around the world.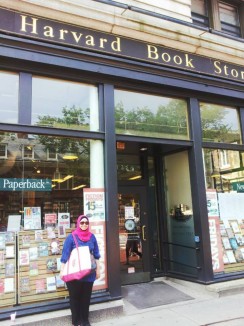 The prestigious scholarship is awarded based on the student's academic excellence (GCPA 3.5 and above), personality and curricular accolades. Apart from essay submission, the successful UTM-HARVARD GOP 2013 participant had to undergo rigorous series of assessment, interviews and Aptitude Test. So far, 16 undergraduate and postgraduate students have benefitted from the UTM-Harvard GOP and more students are expected to benefit from this programme in near future.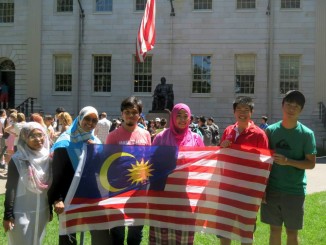 For 2013, out of twelve applicants, four participants were selected; three undergraduate students and one post-graduate student. The students were Andrew Lee Meng Fai (Aeronautic Engineering), Yap Sze Yong (Petroleum Engineering), Mohd Hafiz Bin Badrulhisham (Mechatronic Engineering) and myself, representing IT Management. We had to sit for IELTS/TOEFL in order to qualify to study at Harvard. Minimum requirement for English proficiency at Harvard is IELTS 7.0. Alhamdulillah, I managed to get 8.0 and successfully went through all the tough interviews and Aptitude Test.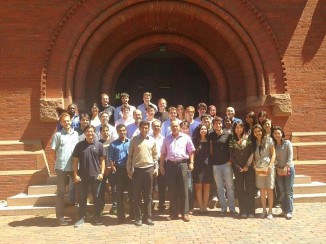 Prior to my studies in Harvard University, we were asked to select courses that we would like to learn during the summer. As I am currently studying IT Management, I feel that choosing related course would be essential and beneficial for my studies. I decided to study Management of Technology and Innovation. This course examines the literature on management of technology and innovation. It is taught by Professor Cherian S. Thachenkary, PhD, Professor of Managerial Sciences, Georgia State University. As this is a graduate course, the class comprised 30 students who comes from 12 different countries. I'm the only Malaysian and Muslim in this class but that doesn't deter me from networking with multi-cultural classmates. Mostly have working experience as diversed as IT Manager, Marketing Analyst, entrepreneurs, graduate students and even there's a diplomat from Kazakhstan!
The course mainly study on the success and failure of innovation in corporate sectors and global market. Students are expected to understand the relevant theoretical frameworks that explain the conditions under which investments in technology can produce payoffs for the innovating firm. The implications for formulating a firm's technology strategy are analyzed. Lectures and discussions are supplemented with extensive use of case studies, journal articles, and trade press. considered myself lucky as I have such wonderful team mates who made collaborative project an enjoyable process apart from the rigorous and demanding projects. My group comprises Luigi Masi, London School of Economics' graduate student, Monica Alvira, Marketing graduate student from Chile, Earl Ng, a Filipino studying at Hong Kong University and Michael Verdonck, a Systems Analyst from Belgium. We collaborated and discussed via F2F and a lot of sessions at Starbucks.

It is hard for me to describe how moved and amazed I was to see so many people of so many different backgrounds brought together in one place. All of us were so different and yet so similar. Despite brought up and shaped completely on different forces and experiences, all of us shared a common love – brushing up the management skill.
As an avid researcher on learning innovation, I felt the course immensely assist me to improve my research skills and share the knowledge with the education community in Malaysia. As the class comprised an eclectic mix of novice and experienced technocrats in marketing, technology and innovation realms, the professor highly encouraged active debates and discussions on past and current innovations in the market. One of the best Harvard experiences for me is when my group received the highest mark in the class for our Harvard Business School Case Studies on Alibaba.com.
The academics at Harvard University are most challenging, however I believe that nothing is impossible if you believe in yourself and strive for excellence. Albeit having to fast for more than 20 hours, alhamdulillah, I am thankful that I managed to still study and scored A for this subject. I was thrilled that I aced my exam, all the hard work paid off. All of these won't be possible without the assistance of my professors, friends and support from my loved ones. In class, I tried to be actively involved in intellectual discourse and in Harvard, the ability to justify and question is very vital, it stretches to define who is able to successfully develop plans and implement their ideas. Networking and bonding with great friends that came from all parts of the world had enriched my personal perspectives on friendship, camaraderie, leadership, respect, trust and compassion.
---
You can leave a response, or trackback from your own site.
Leave a Reply