No Comments// Posted in e-classroom, english, english literature, johor, reflection, talk by Nor Fadzleen Sa don on 04.16.14.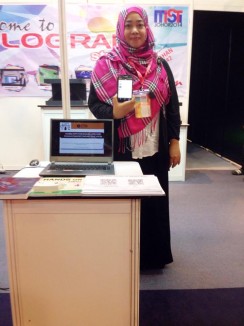 A week after coming back from Europe, I was selected to present my innovation, MY-LIT mobile apps during MISTI Johor 2014  exhibition at Persada. MY-LIT Mobile App is a prototype of the Form 4 KBSM English Lit Component. I started the research paper last year, continuing the online classroom platform MY LIT PROJECT that I initiated back in 2010. I wrote a book chapter on this project in ICT and ELT in South East Asia book project in 2012 as well as authored the English Literature section for Hands On English workbook with Oxford Fajar. Thank you AP Dr Muhammad Kamarul Kabilan (USM) for encouraging me to document my action research with others and to Dr Ab Razak Che Hussin for giving me opportunity to learn more. I am not an expert but I believe in giving your best shot in whatever you are doing. I do this because of my passion for teaching and learning.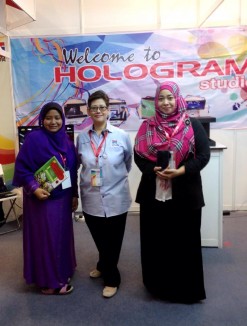 Awin and I with Tunku Zahrah, the Chairperson of ICT Johor and the MISTI exhibition.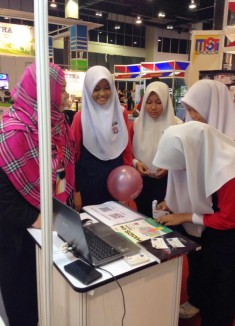 Although I was nervous in showcasing my work since I'm still a novice in developing mobile app, I was glad to see such great feedback from the students. They told me it's about time learning materials in Malaysia are on mobile app as most students have smart phones. Hence why I learn to do this from my Software Technology class and also with the help of my co-developer, Abdelrahman. All these are done because of my passion for English Literature and the idea of disseminating resources as Open Educational Resource.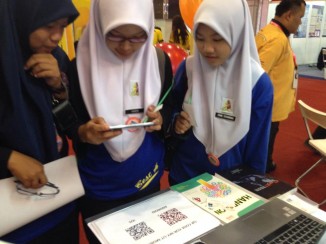 Despite being nervous about the audience response to the project, I got great feedback from teachers on MY LIT mobile app prototype. The best part when they told me it's great to see a teacher developing mobile apps for students and they will share this with their colleagues and students in schools. Thank you, the feedback from teachers and students are the best way for me to evaluate my project and refine it in the future, In sha Allah. 
---
You can leave a response, or trackback from your own site.
Leave a Reply